Transform: The Sound of stains
Für meine Teilnahme in Transform, Bern. Habe ich eine Improvisationsanlage. Bei der Beobachtung der Räumlichkeiten von Transform fand ich besonders interessant die Flecken an den Wände, die als  Überbleibsel von anderen Zeiten, andere Performances und Kunststücke bleiben, oder die vielleicht einfach zufällig entstanden sind.
Die Flecken wurden Partituren und Improvisationen, die mit einem blauen Viereck markiert waren. Man konnte auch mit einem aus Papier vier Eck, jede Fleck oder Bild in eine Partitur verwandeln.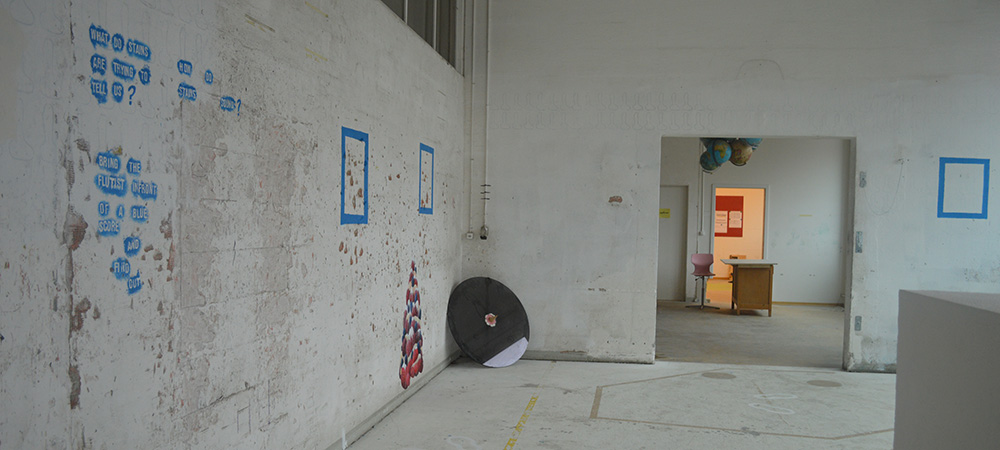 Die künstlerin Maya Bringolf hatte eine Woche vorher eine Instalation mit Orgelpfeifen und ein Windmotor gemacht, ein Cluster hat eine spezielle Atmosphäre in dem Open-Door-Abend erzeugt. Ich habe das Instrument transformiert. Durch Löcher an den Wand sind die Pfeifen im Rauchenzimmer gegangen, und mann konnte mit dem Mund die Rohren spielen. Die Partitur war in diesem Fall, was im Rauchenzimmer passiert.
Here some pictures of the concert
Presse:
http://www.bernerzeitung.ch/region/bern/Essen-und-trommeln-im-Auftrag-der-Kunst/story/28266121
http://blog.tagesanzeiger.ch/kulturstattbern/blog/2014/02/07/die-raum-transformer-5/